Please read:
Before drawing the cards, you need to focus and think about a very precise question. Then you should choose 10 cards from the deck below and consult the free interpretation about your choice.
Our free tarot reading will give you a unique insight into your future and allow you to face it with more serenity.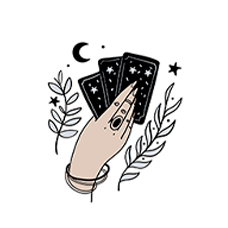 Who am I?
My name is Eva Delattre. I have been a clairvoyant and tarologist for almost 30 years, and I am offering a free reading of the tarot.
My research is based around the manuscripts written by the magus, Edmond, and offers you a unique fortune telling experience.
Dive into the fascinating world of the tarot reading
A unique fortune telling experience
Evatarot.net offers you an exceptional fortune telling experience. Using the Rider Waite Tarot, you can see your future based on the cards you have drawn.
This experience is based on research conducted in the nineteenth century by the French magus, Edmond, and is the most advanced research that has been carried out nowadays from Edmond's manuscripts.
Free tarot readings